I'm really excited to be partnering with my good friend, Sunny Bonvintage, of C'est Si Bon Vintage, to host this year's #VintagePledge2018! More on that very soon…. first let me tell you about this new corner of the internet.
This is a new site for me (my personal blog is still at https://mysciramakes.com; although I recently started a revamp of that, overall that's been a tad ignored with my current work schedule), but I'm excited to start this new venture as well. I am building a database of vintage pattern info, only for patterns that people actually have in their hot little hands, and have sewn up.
For now, obviously, I'm starting with the patterns in my hot little hands, since I have direct access, and I'll be building the database up from that – but feel free to talk to me about what you've made!  Getting this database started is going to help me see my patterns more easily, digitally drool over them, and basically be more inspired to make time to SEW THEM! 🙂
There are some really beautiful, timeless vintage patterns out there – that lovely long jacket in the logo is one of my favorites from my stash – and whether they're made to be completely true to the era, or adjusted for modern sensibilities, they truly deserve to be used, sewn, and shown off. (PS in case anyone is nervous, don't worry, I'm Team Trace all the way with vintage patterns!)
And that leads me back to the 2018 Vintage Pattern Pledge. Sadly, Marie of A Stitching Oddysey is unable to host this year's Pledge, after getting us all psyched up with almost 4 years of #VintagePledge inspiration – so Sunny & I decided to pitch in for this year's #VintagePledge2018 (well, ok, so Sunny started it, LOL, but feel free to ask Sunny how much it took for me to rise to the bait). I've never done anything like this before, but Sunny's a whiz, and I can do a blog, so let's do this!
Guidelines for the 2018 Vintage Pledge (we'll follow the original ones):
Your pledge can be as specific or as flexible as you like, the only 'rule' is that you must use vintage or reproduction patterns. I'm afraid that contemporary vintage-style patterns don't count.

You can sew as many or as few items as you like. You may want to choose one or two if you're new to vintage and/or sewing, or create a whole vintage-inspired wardrobe
1990s patterns are eligible for the pledge as they're over 20 years old, which scarily makes them vintage by definition
As well as genuine vintage patterns, you can also use reproduction patterns
It's not just about dressmaking for you or the special people in your life (kids, partners, etc) – you can also join in if you like to sew accessories, toys, homeware and so on
Make the pledge your own – there are many ways to do this! You could pledge to use your first ever vintage pattern, sew up the oldest pattern from your stash, explore patterns from a particular decade or set yourself a numerical target
Knitters are welcome too – the same criteria applies
Use #VintagePledge2018 when sharing projects across social media
Downloadable badge 150pix: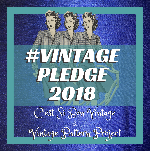 Talk about it in our Facebook group!